The National Carbon Capture Center has been recognized as Carbon Capture and Storage Pioneer – one of Peabody's Fourth Annual Global Clean Coal Leadership Awards presented Dec. 5 at Power-Gen International 2017 in Las Vegas.
Highlighting leading examples of innovation in clean coal technologies, the awards "shine a light on the tremendous environmental progress being made to improve emissions through greater use of technology," said Peabody in a news release. Peabody also honored coal-fired power plants in the U.S., China, Japan and India that have achieved industry-leading performance in reducing key emission rates and improving efficiency.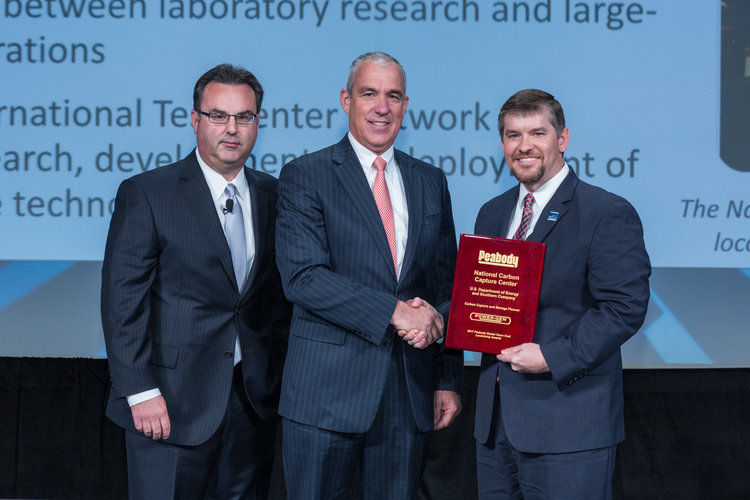 "The National Carbon Capture Center continues to gain international attention for our important work in advancing next-generation carbon capture technologies," said John Northington, National Carbon Capture Center director. "It was an honor to accept this award and represent the Total Commitment of our team in front of industry peers and energy leaders at Power-Gen."
Southern Company manages and operates the National Carbon Capture Center for the U.S. Department of Energy (DOE). The Wilsonville test facility is known worldwide for its work to accelerate the development of innovative technologies to reduce greenhouse gas emissions from natural gas and coal power plants.
Peabody President and CEO Glenn Kellow said, "Peabody has advocated clean coal technologies for two decades and we are proud to recognize companies that are advancing these technologies to help achieve energy security, economic progress and environmental solutions."
Last month, the National Carbon Capture Center announced that it had surpassed 100,000 hours of technology testing.