The National Carbon Capture Center and Southern Company recently hosted another year of the RECS program – Research Experience in Carbon Sequestration – sponsored by the U.S. Department of Energy's Office of Fossil Energy. Held in Birmingham, Alabama, with field trips to surrounding areas, the program gives graduate students an opportunity to see firsthand the front lines of research in carbon capture and storage (CCS). It also serves as an outreach, mentoring and networking opportunity.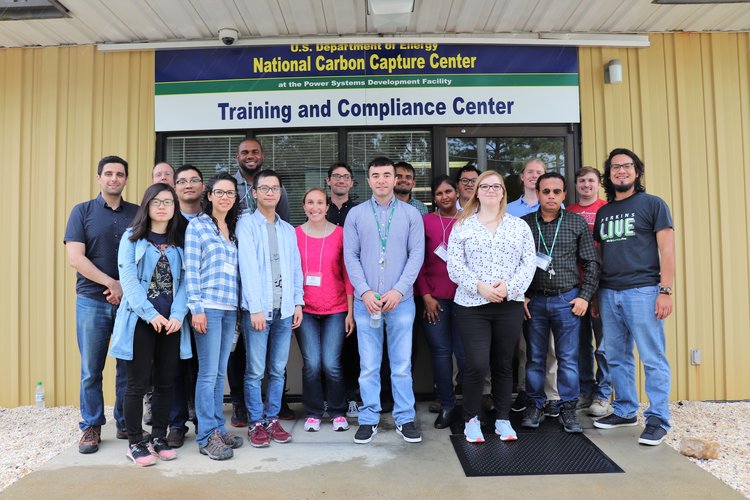 "It's really valuable because this career network we've built over the last 15 years represents the best in this country of young professionals working in CCS," said Pamela Tomski, RECS founder and director.
Every year, approximately 20 graduate students spend a week in the program that combines classroom instruction with group exercises; a tour of the National Carbon Capture Center, which is managed and operated by Southern Company; CCS site visits and hands-on field activities covering the range of science, technology, policy and business topics associated with CCS research and development.
"Student outings included a tour of carbon storage wells that are part of a DOE research and development storage program," said Richard Esposito, Southern Company geological engineer. "We also toured the core warehouse of the Geological Survey of Alabama to look at drill cores and the types of rocks that we've been researching for storage of carbon dioxide in the subsurface."
One evening students were treated to a behind-the-scenes tour of McWane Science Center's fossil, rock and natural history collections. "The visit to the McWane Center's paleontology lab run by Jun Ebersole and the visit to the Alabama Geological Survey showed off the incredible geo- and bio-diversity in Alabama," said participant Erin Creel, doctoral candidate from University of California, Berkeley.
Participant Ryan Kammer, research geologist at the Indiana Geological and Water Survey, agreed. "As a geologist, I enjoyed the aspects at the Geological Survey of Alabama and was pleasantly surprised by the wide array of fields involved in our program, from policy students to chemical and mechanical engineers … and the work being done at the National Carbon Capture Center was encouraging."
Tomski said Southern Company's research and development efforts in CCS are part of the reason she schedules the program in Birmingham each year. "I couldn't ask for a better partner than Southern Company," she said. "The opportunity to access the National Carbon Capture Center, power plants and field sites is really unprecedented."